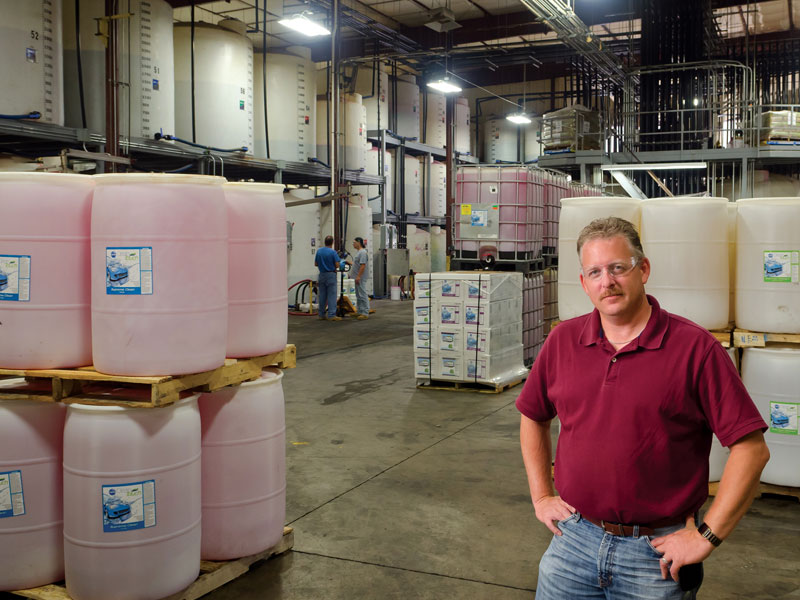 CleanFill Concentrate Management System
We developed our patent-pending CleanFill concentrate management system to increase your profitability and ensure the safe and easy replenishment of car wash chemical products. Its docking station was engineered for compatibility with our 2.5-gallon CleanFill concentrate container, which can easily be shipped and stored. The transparent holding tank allows for easy product-level monitoring and inventory control.
Features
Available in 14- and 55-gallon container unit
Stand-alone or interlocking container units
Docking station shelf to allow for easy insertion of 2.5-gallon concentrate container
Easy-to-view product level
Complete emptying with no waste
Reduced risk of injury or spills
14-gallon units can be plumbed together for increased product capacity
Each container unit requires less than two square feet of floor space
CleanFill Concentrate
The CleanFill concentrate container is the perfect complement to the CleanFill concentrate management system. Each 2.5-gallon container weighs less than 25 pounds and is made of 100 percent recyclable plastic for easy disposal. Our concentrated product line allows for more applications per container at a lower per-application cost than many competitive products used in the market today.
Features
Highly concentrated products
Enhanced user safety
Easy to dispose
Low shipping costs
Easy-to-manage inventory system
100 percent recyclable packaging
Unique product ID system
Full-line product availability