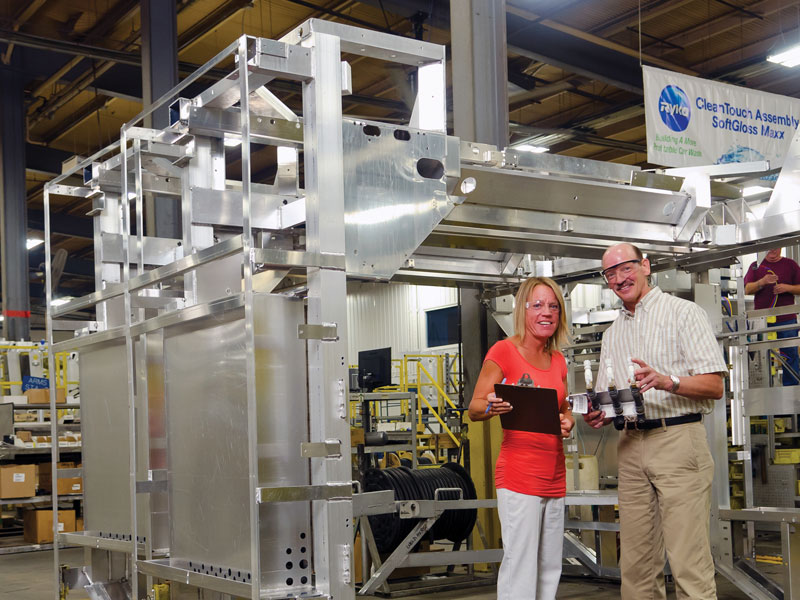 Heritage of Innovation
Ryko Manufacturing Company began as a privately owned corporation on May 1, 1973. Our three founders—Jim Nelson, Larry Klein and Steve Golden—had been involved in the sales, installation and service of car wash equipment since 1970, working primarily with major oil companies that realized they could substantially increase their gasoline sales by offering their customers a free car wash. At that time, rollover-type car wash equipment was becoming more popular for the "free with a fill" strategy because it was lower-priced, more economical to operate and required less space than any other car wash system available.
With the oil shortage of late 1972, the supply of gasoline became severely limited. Founders Klein and Nelson determined that if service stations limited their capacity to wash automobiles, people would have to find another facility to get their cars clean. Ryko's management decided to develop and manufacture car wash system capable of operating completely automatically—without an attendant—and activated by coins or tokens.
By August of 1973, the fledgling company was in the process of manufacturing its first all-aluminum, automatic car wash. The company's initial manufacturing facility was essentially an unheated garage located at 509-1/2 S.E. Sixth Street in Des Moines, Iowa. The company employed four people, including the founders, and was capable of producing one new car wash equipment every 60 days. Over the next 10 years, the company moved twice, began nationwide distribution and grew to a staff of approximately 200 people. It added a number of new products, including self-service wand wash equipment, air dryers and wash water recirculation systems, along with a series of new models of rollovers.
Then in the summer of 1983, Ryko began renovation on what was to become its home today, a 150,000-square-foot building on 30 acres of land in Grimes, Iowa. Since moving to our new headquarters, we've added nearly 100,000 square feet and all car wash system and chemical engineering and manufacturing are housed in a state-of-the-art processing facility.
Over the years, Ryko has been responsible for a series of firsts in the car wash industry, including the development of:
Reliable washes and activation equipment operable without attendants.
Codes to activate a car wash.
The industry-standard interface with "at the pump" point-of sale-equipment for oil companies.
Use of voice messages to encourage end users to upgrade their wash choices.
Photo eyes (reflective) at a coin box to recognize that a customer has pulled up.
High-impact spray wash technology.
Networked car wash products with integrated diagnostics and operational data in one place.
A car wash specifically designed to perform well with foamed brushes.
The ability to interrupt the top brush on pickup beds with an ultrasonic sensor.
Automated, adjustable speed of wash cycles depending on traffic at the coin box.
Today, Ryko is part of National Carwash Solutions, one of the largest manufacturers of car wash systems in the nation. Our product lines include friction and touchless rollovers, drive-throughs, conveyors, vacuums, dryers, self-service systems and a wide range of accessories. Our products are marketed domestically and throughout the world. NCS has become an industry leader on a global scale.